Um orðið járn í fornnorrænu og forsögu þess
Jón Axel Harðarson

Háskóli Íslands
íslenzk, norræn, germönsk og indóevrópsk málvísindi, hljóðkerfisfræði, orðmyndunarfræði, skriftarfræði, bragfræði
Útdráttur
In Old Norse the word for 'iron' had two forms, íarn and iárn, besides ísarn. The form íarn is a borrowing from Old Irish. By accent shift and contraction it changed into iárn. This form is Common Nordic. Only a few relics of the disyllabic form are preserved in poetry. In scaldic poetry (Dróttkvætt) there are four examples of rhymes like arnar : iárne, which have been interpreted as evidence for the form iarn (with a short a) in Old Norse. The use of the word in such rhymes is, however, best explained by the assumption that the long a has undergone prosodic shortening before the consonant cluster rn or the rhyming is 'imperfect' in the sense that the vowel length is not the same in both of the rhyming syllables (or, more accurately, stems). In this connection it should be taken into account that very few words could form a 'perfect' rhyme with iárn, due to the rarity of the sound sequence árn. It has been maintained that the East Nordic languages demand the Old Norse form iarn, but that is a misunderstanding.
In the First Grammatical Treatise the form iárn was written <eárn>. The author discusses this writing but has difficulties supporting it with arguments. He refers to poetry where, according to his statement, the disyllabic form was pronounced with an initial e and not i. This pronunciation is not original. The Nordic people who borrowed the Old Irish word iarn perceived its articulation as [ijarn]. Since the word early suffered contraction in normal speech, in the 12th century it was no longer known how the disyllabic form had previously been pronounced.
The reason why the author preferred to write words like iárn and iór with e than with i, i.e. eárn, eór, is graphemic. In the first half of the 12th century forms like féar, séa, séom and tréom were contracted to fiár, siá, sióm and trióm. The author knew many examples of both uncontracted and contracted forms and was well aware that iá and ió often came from éa and éo, resp. Graphic conservatism caused many to write the contracted forms as if they were uncontracted. And since the semivowel [j] of rising diphthongs like iá and ió was often written e, this manner of spelling could become generalized so that all rising diphthongs beginning with [j], regardless of their origin, were affected by it. The author of the First Grammatical Treatise apparently followed this conservative manner.
The Germanic and Celtic words for 'iron' are most probably connected with Skr. iÞirá- 'strong, powerful, quick, fast' and Gk ƒerÒj / ƒarÒj / rÒj 'vigorous, strong, holy' and denoted 'the strong (metal)', i.e. the hard metal in comparison with other metal types (esp. bronze). The morphological relationship of these words is as follows: IE *h1ish2-ró- 'strong, powerful, quick, etc.' (Skr. iÞirá-, Gk rÒj) → *h1ish2-eró- 'id.' (Gk ƒarÒj, which later changed into ƒerÒj, the Celtic river name Isarā, the Ogam Ir. man's name IARI (Gen.), OIr. íaru 'weasel, squirrel' < *isarōn-) → *h1ish2-er-nó- 'id.' (Proto-Celt. *isarno-) → *h1é¼sh2-er-no- (Proto-Germ. *eisarna- > *īsarna-). The difference between the stem forms in Celtic and Germanic is to be explained by recognizing that Proto-Celt. *isarno- originally was an adjective meaning 'powerful, strong', whereas Proto-Germ. *eisarna- was a substantive derived from the same adjective by means of accent shift and v¨ddhi. In fact, it is uncertain how old this derivation is, and therefore it would be more cautious to describe it as follows: adj. *(h1)is(h2)arnó- → subst. *(h1)é¼s(h2)arno-.
The Old Irish word which the Nordic people borrowed developed from Proto-Celtic in the following way: *isarnon > Prim. Ir. *iharnan > *eharnan > *earna > OIr. iarn.
It is uncertain whether ON ísarn is a Germanic inheritance or a borrowing from West Germanic.
Heimildir
Ásgeir Blöndal Magnússon. 1989. Íslensk orðsifjabók. Reykjavík: Orðabók Háskólans.
Bjorvand-Lindeman. 2007. Harald Bjorvand og Fredrik Otto Lindeman. Váre arveord. Etymologisk ordbok. Revidert og utvidet utgave. Oslo: Novus.
Breyer, Gertraud. 1993. Etruskisches Sprachgut im Lateinischen unter Ausschluss des spezifisch onomastischen Bereiches. Orientalia Lovaniensia Analecta 53. Leuven: Peeters.
Brøndum-Nielsen, Joh[anne]s. 1950. Gammeldansk Grammatik i sproghistorisk Fremstilling. I: Indledning, tekstkildernes lydbetegnelse, vokalisme. 2. ændrede udgave. København: J. H. Schultz.
Brugmann, Karl. 1900. Griechische Grammatik (Lautlehre, Stammbildungs- und Flexionslehre und Syntax). Dritte Auflage. Mit einem Anhang úber Griechische Lexikographie von Leopold Cohn. Múnchen: C. H. Beck.
Brugmann, Karl. 1906. Grundriss der vergleichenden Grammatik der indogermanischen Sprachen. Zweiter Band: Lehre von den Wortformen und ihrem Gebrauch. Erster Teil: Allgemeines. Zusammensetzung (Komposita). Nominalstämme. Zweite Bearbeirung. Strassburg: Karl. J. Trubner.
Buck, Carl Darling. 1949. A Dictionary of Selected Synonyms in the Principal Indo-European Languages. A Contribution to the History of ldeas. The University of Chicago Press.
Bugge, Sophus. 1855. Die formen der geschlechtslosen persönlichen pronomina in den germanischen sprachen. Zeitschrift fiir vergleichende Sprachforschung 4:241-56.
Bugge, Sophus 1891. Vocalverkúrzung im altnordischen. Beitrdge zur Geschichte der deutschen Sprache und Literatur 15:391-401.
Casaretto, Antje. 2004. Nominale Wortbildung der gotischen Sprache. Die Derivation der Substantive. Heidelberg: Carl Winter.
Chantraine, Pierre. 1968. Dictionnaire étymologique de la langue grecque. Histoire des mots. Paris: Klincksieck.
Cowgill, Warren 1986. Indogermanische Grammatik. Band 1/1: Einleitung. Ins Deutsche úbersetzt und bibliographisch bearbeitet von Alfred Bammesberger und Martin Peters. Heidelberg: Carl Winter.
Dahlerup-Jónsson 1886. Den første og anden grammatiske afhandling i Snorres Edda. Udgivet for Samfund til udgivelse af gammel nordisk litteratur af Verner Dahlerup og Finnur Jónsson. Kobenhavn: S. L. Møller.
Delamarre, Xavier 2003. Dictionnaire de la langue gauloise. Une approche linguistique du vieux-celtique continental. 2e édition revue et augmentée. Paris: Editions Errance.
Egilsson-Jónsson. 1931. Lexicon poeticum antiquæ linguæ Septentrionalis. Ordbog over det norsk-islandske skjaldesprog. Oprindelig forfattet af Sveinbjörn Egilsson. Forøget og påny udgivet for Det kongelige nordiske oldskriftselskab. 2. udgave ved Finnur Jónsson. Kabenhavn: S. L. Moller.
Ernout-Meillet. 2001. Alfred Ernout et Antoine Meillet. Dictionnaire étymologique de la langue latine. Histoire des mots. Retirage de la 4° édition, augmentée d'additions et de corrections par Jacques André. Paris: Klincksieck.
Falk-Torp. 1910. H[jalmar]. S[ejersted]. Falk og Alf Torp. Norwegisch-Dänisches etymologisches Wörterbuch. Erster Teil: A - O. Heidelberg: Carl Winter.
Feist, Sigmund. 1939. Vergleichendes Wörterbuch der gotischen Sprache mit Einschluss des Krimgotischen und sonstiger zerstreuter Uberreste des Gotischen. 3. neubearbeitete und vermehrte Auflage. Leiden: Brill.
Finnur Jónsson. 1921. Norsk-islandske kultur- og sprogforhold i 9. og 10. árh. København: Host & Son.
FJ = Finnur Jónsson. 1912-1915. Den norsk-islandske skjaldedigtning. A I-II. Tekst efter hándskrifterne. B I-II. Rettet tekst. København: S. L. Moller.
García-Ramón, J[osé]. L[uis]. 1992. Griechisch iεpóς, und seine Varianten, vedisch is̨irá-. Rekonstruktion und relative Chronologie. Akten der VIII. Fachtagung der Indogermanischen Gesellschaft Leiden, 31.August - 4. September 1987 (útg. Robert Beekes, Alexander Lubotsky og Jos Weitenberg), bls. 183-205. Innsbrucker Beitrage zur Sprachwissenschaft 65. Innsbruck.
Hirt, Hermann. 1931. Handbuch des Urgermanischen. Teil I: Laut- und Akzentlehre. Heidelberg: Carl Winter.
Hoad, T F. 1996. (Utg.). The Concise Oxford Dictionary of English Etymology. (Reissued in new covers 2003). Oxford University Press.
Hreinn Benediktsson. 1963. Phonemic Neutralization and Inaccurate Rhymes. Acta philologica Scandinavica 26:1-18 [Endurútgefið í: Útg. Guðrún Þórhallsdóttir, Höskuldur Þráinsson, Jón G. Friðjónsson, Kjartan Ottosson. Linguistic Studies, Historical and Comparative by Hreinn Benediktsson, bls. 92-104. Reykjavík: Málvísindastofnun Háskóla íslands 2002].
Hreinn Benediktsson. 1965. Early Icelandic Script, as Illustrated in Vernacular Texts from the Twelfth and Thirteenth Centuries. Islenzk handrit = Icelandic Manuscripts, Series in Folio, II. Reykjavík: Handritastofnun íslands.
Hreinn Benediktsson. 1972. The First Grammatical Treatise. Reykjavík: Málvísindastofnun Háskóla Islands.
Kahle, Bernhard. 1892. Die Sprache der Skalden auf Grund der Binnen- und Endreime, verbunden mit einem Rimarium. Karl J. Trúbner, Strassburg.
Klingenschmitt, Gert. 1982. Das altarmenische Verbum. Wiesbaden: Dr. Ludwig Reichert.
Kluge, Friedrich. 1918. Ags. íren = ahd. isan. Beitrdge zur Geschichte der deutschen Sprache und Literatur 43:516-17.
Kluge-Mitzka. 1967. Etymologisches Wörterbuch der deutschen Sprache von Friedrich Kluge. 20. Auflage bearbeitet von Walther Mitzka. Berlin: Walter de Gruyter.
Kluge-Seebold. 2002. Etymologisches Wörterbuch der deutschen Sprache von Friedrich Kluge. Bearbeitet von Elmar Seebold. 24., durchgesehene und erweiterte Auflage. Berlin: Walter de Gruyter.
Kock SL = Axel Kock. Svensk ljudhistoria. I—II. Gleerup/Harrassowitz, Lund 1906 (I), 1909-11 (II).
Konráð Gíslason. 1866. Forandringer af 'Qvantitet' i Oldnordisk-islandsk. Aarbøger for nordisk Oldkyndighed og Historie. 1866:242-305.
Krause, Wolfgang. 1948. Abriss der altwestnordischen Grammatik. Halle: Max Niemeyer.
Kristensen, Marius. 1904. De islandske halvvokaler og deres betegnelse i "Den I gramm. afh." Nordiska studier tillegnade Adolf Noreen pá hans 50-ársdag den 13 mars 1904 af studiekamrater och lärjungar. Uppsala: K. W. Appelberg.
Lipp, Reiner. 2009. Die indogermanischen und einzelsprachlichen Palatale im Indoiranischen. Band II: Thorn-Problem, indoiranische Laryngalvokalisation. Heidelberg: Carl Winter.
LIV = Lexikon der indogermanischen Verben. Die Wurzeln und lhre Primärstammbildungen. 2001. Unter der Leitung von Helmut Rix und der Mitarbeit vieler anderer bearbeitet von Martin Kúmmel, Thomas Zehnder, Reiner Lipp und Brigitte Schirmer. Zweite erweiterte und verbesserte Auflage bearbeitet von Martin Kúmmel und Helmut Rix. Wiesbaden: Dr. Ludwig Reichert.
Luick, Karl. 1964. Historische Grammatik der englischen Sprache. Erster Band: II Abteilung. Stuttgart: Bernhard Tauchnitz.
Mallory-Adams. 1997. Encyclopedia of Indo-European Culture. Editors J. P. Mallory and D. Q. Adams. London and Chicago: Fitzroy Dearborn publishers.
Matasovic, Ranko. 2009. Etymological Dictionary of Proto-Celtic. Leiden Indo- European Etymological Dictionary Series. Vol. 9. Leiden: Brill.
McCone, Kim. 1996. Towards a Relative Chronology of Ancient and Medieval Cel- tic Sound Change. Maynooth Studies in Celtic Linguistics 1. Department of Old Irish, St. Patrick's College, Maynooth.
Meid, Wolfgang. 1967. Wortbildungslehre (= Krahe, Hans - Meid, Wolfgang. Germanische Sprachwissenschaft III). Berlin: Walter de Gruyter.
Neri, Sergio. 2003. I sostantivi in -u del gotico. Morfologia e preistoria. Innsbrucker Beitrage zur Sprachwissenschaft 108. Innsbruck.
Neri, Sergio. 2007. Cadere e abbattere in indoeuropeo. Sull' etimologia di tedesco fallen, latino aboleo e άπóλλνμι. Innsbrucker Beitrage zur Sprachwissenschaft 124. Innsbruck.
NIL = Dagmar S. Wodtko, Britta Irslinger, Carolin Schneider. 2008. Nomina im indogermanischen Lexikon. Heidelberg: Carl Winter.
Noreen, Adolf. 1904. Altnordische Grammatik II. Altschwedische Grammatik mit Einschluss des Altgutnischen. Halle: Max Niemeyer.
Noreen, Adolf. 1923. Altnordische Grammatik I. Altisländische und alhtorwegische Grammatik unter Berücksichtigung des Urnordischen. 4. vollständig umgearbeitete Auflage. Halle: Max Niemeyer.
Nussbaum, Alan J. 2009. Genitivalia. The 28th East Coast Indo-European Conference, Háskóla íslands, 10.-14. júní 2009.
Pedersen, Holger. 1909. Vergleichende Grammatik der keltischen Sprachen. Band I: Einleitung und Lautlehre. Göttingen: Vandenhoeck und Ruprecht.
Pfeifer, Wolfgang. 1995. Etymologisches Wörterbuch des Deutschen. Erarbeitet im Zentralinstitut fiir Sprachwissenschaft, Berlin, unter der Leitung von Wolfgang Pfeifer. Ungekúrzte, durchgesehene Ausgabe. Múnchen: Deutscher Taschenbuch Verlag.
Pokorny, Julius. 1959. Indogermanisches etymologisches Wörterbuch. Band I. Bern: Francke.
Ranke-Hofmann. 1988. Altnordisches Elementarbuch. Einfuhrung, Grammatik, Texte (zum Teil mit Übersetzung) und Wörterbuch von Friedrich Ranke und Dietrich Hofmann. 5., durchgesehene Auflage. Berlin: Walter de Gruyter.
Rau, Jeremy. 2009. Indo-European Nominal Morphology: The Decads and the Caland System. Innsbrucker Beitrage zur Sprachwissenschaft 132. Innsbruck.
Ringe, Don. 2006. From Proto-Indo-European to Proto-Germanic. A Linguistic History of English. Vol. I. Oxford University Press.
Schaffner, Stefan. 2001. Das Vernersche Gesetz und der innerparadigmatische grammatische Wechsel des Urgermanischen im Nominalbereich. Innsbrucker Beitrage zur Sprachwissenschaft 103. Innsbruck.
Schumacher, Stefan. 2007. Die Deutschen und die Nachbarstamme: Lexikalische und strukturelle Sprachkontaktphänomene entlang der keltisch-germanischen Übergangszone. Johann Kaspar Zeuß im kultur- und sprachwissenschaftlichen Kontext (19. bis 21. ]ahrhundert). Kronach 21.7.-23.7. 2006. (Útg. Hans Hablitzel og David Stifter). Keltische Forschungen 2:167-207.
Southern, Mark R. V. 2000. Tabula rāsa. The "tablet" word in Italic, and its Indo-European relatives. Münchener Studien zur Sprachwissenschaft 60:89- 133.
Stokes, Whitley 1894. Urkeltischer Sprachschatz. Übersetzt, überarbeitet und herausgegeben von Adalbert Bezzenberger. Göttingen: Vandenhoeck & Ruprecht.
Stüber, Karin. 2002. Die primdren s-Stämme des Indogermanischen. Wiesbaden: Dr. Ludwig Reichert.
Thurneysen, Rudolf. 1884. Keltoromanisches. Die keltischen Etymologien im etymologischen Wörterbuch der romanischen Sprachen von F . Diez. Halle: Niemeyer.
Torp, Alf. 1919. Nynorsk etymologisk ordbok. Kristiania: Aschehoug.
Verner, Karl. 1876. Eine ausnahme der ersten lautverschiebung. I: Zeitschrift für vergleichende Sprachforschung 23:97-130.
Vine, Brent. 2006. On "Thurneysen-Havet's Law' in Latin and Italic. I: Historische Sprachforschung 119:211-249.
de Vries, Jan. 1962. Altnordisches etymologisches Wörterbuch. 2. verbesserte Auflage. Leiden: Brill.
Watkins, Calvert. 2000. The American Heritage Dictionary of Indo-European Roots. Second edition. Boston - New York: Houghton Mifflin Company.
Ziegler, Sabine. 2002. Altirisch íaru, das 'flinke' Eichhörnchen. Novalis Indo-germanica. Festschrift für Günter Neumann zum 80. Geburtstag (útg. Matthias Fritz og Susanne Zeilfelder), bls. 537-539. Graz: Leykam.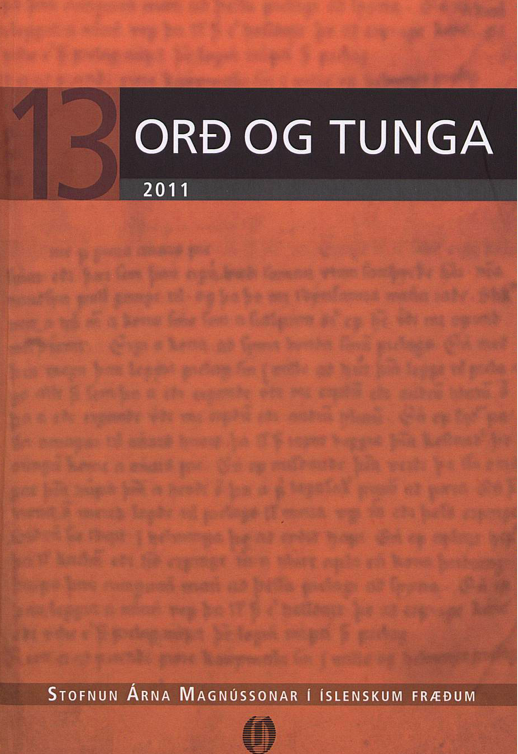 ##submission.copyrightStatement##
##submission.license.cc.by-nc-sa4.footer##