Bæjarnafnið Brúar, fleirtölumyndirnar brýr og brúr
Margrét Jónsdóttir

Háskóli Íslands
íslensk málsaga, beygingarfræði, áhrifsbreytingar, örnefni
Útdráttur
The purpose of this paper is to clarify forms like the place name Brúar, our only living witness to the old plural of the word brú. Other plural formations, such as brúr and brýr are dealt with as well. Our sources for these forms are widely distributed in space and time, and though a diachronical aspect is never absent, the form in question is investigated from a synchronistic standpoint.
The main conclusions of this paper are as follows:
 a. Even though the plural form brúar no longer functions as plural of the common noun
 
brú, the form Brúar is quite natural in the function it serves. This can readily be

explained in the light of the theory that if a form has received a new inflectional form, this new form takes on the word's primary function as default form for the common noun. The earlier form may survive exercising a secondary function. The place name, here the name of a farm, is a natural candidate for that function. Its function is marked, given that its scope of use is more narrowly circumscribed.

b. In Icelandic, the dative may, inter alia, indicate movement or rest at a location. The

form Brúum is an archaic-looking dat. pl. form of a radical noun ending in (-)V:#.

Such a dat. form could never coexist in a paradigm of feminine nouns with a monosyllabic nom. pl. form. In the same way, a monosyllabic dat. form like brúm is almost exclusively confined to feminine nouns. All these particularities are discussed in the context of the assumption that the dative is, indeed, the unmarked case of nouns indicating place; and thus a case likely to preserve more archaical forms than other cases or the corresponding common nouns.

c. The plural forms brúr and brýr both have formal parallels in the system of feminine

noun declension.
The interrelations between these phenomena are dealt with in a further discussion of how word forms influence each other and the effect that grammatical function may have on the preservation of forms. The dative is our focus; precisely in the dative forms we may find answers to many of the questions that present themselves. Analogical change has its roots in a relation of structural parallelism, a presence of similarity. This is the guiding thought throughout the rest of this paper. Meaning and function are seen to be decisive. It matters, for instance, whether we are dealing with a place name or a common noun. This is addressed in the light of theories such as those put forward by Kuryłowicz, Mańczak, Tiersma and Croft. In this way, well-known theories of general linguistics find application in unravelling a phenomenon of Icelandic language history.
Heimildir
Anttila, Raimo. 2005. Analogy: The Warp and Woof of Cognition. í: Brian D. Joseph og Richard D.
Janda (ritstj.). The Handbook of Historical Linguistics. Bls. 425-440. Oxford: Blackwell.
Ari Gíslason. 1956-1960. Örnefnaskrá Grenjaðarstaðar. Handrit. Örnefnasafn Stofnunar Árna Magnússonar í íslenskum fræðum.
Ari Páll Kristinsson. 1998. Handbók um málfar í talmiðlum. Reykjavík: Málvísindastofnun Háskóla íslands.
Ásgeir Blöndal Magnússon. 1989. íslensk orðsifjabók. Reykjavík: Orðabók Háskólans.
Bandle, Oskar. 1956. Die Sprache der Guðbrandsbiblía. Kopenhagen: Ejnar Munksgaard. Bibliotheca Arnamagnæana XVII.
Bjorvand, Harald og Fredrik Otto Lindeman. 2000. Våre arveord. Etymologisk ordbok. Oslo: Novus forlag.
Byggðir og bú Suður-Þingeyinga 1985.1986. Ritnefnd. Helgi Jónasson, Jóhanna Á. Steingrímsdóttir, Erlingur Arnórsson. Búnaðarsamband Suður-Þingeyjarsýslu.
Cleasby, Richard og Guðbrandur Vigfússon. 1874. Icelandic English Dictionary. Based on the Ms. collections of the late Richard Cleasby. Enlarged and completed by Gudbrand Vigfusson. Oxford,:Clarendon Press.
Collinge, N. E. 1985. The Laws of Indo-European. Amsterdam, Philadelphia: John Benjamins.
Croft, William. 2003. Typology and Universals. Second edition. Cambridge: Cambridge Univeristy Press.
Dressler, Wolfgang U. 2005. Naturalness and Morphological Change. I: Brian D. Joseph og Richard D. Janda (ritstj.). The Handbook of Historical Linguistics. Bls. 461-171. Oxford: Blackwell.
Eiríkur Rögnvaldsson. 1990. íslensk orðhlutafræði. Kennslukver handa nemendum á háskólastigi. 4. útgáfa. Reykjavík: Málvísindastofnun Háskóla íslands.
Føroysk orðabók. 1998. Ritsrjórn: Jóhan Hendrik W. Poulsen o.fl. Tórshavn: Føroya Fróðskaparfelag og Fróðskaparsetur Føroya.
Greenberg, Joseph H. 1966. Language Universals. With a Special Reference to Feature Hierarchies. Second printing. The Hague, Paris, New York: Mouton.
Halldór Kr. Friðriksson. 1859. Íslenzkar rjettritunarreglur. Reykjavík: Hið íslenzka bókmenntafjelag.
Haraldur Bernharðsson. 2004. Um Moldhaugnaháls út í Fjósa og Fjörður. Af áhrifsbreytingum í nokkrum fleirtöluörnefnum. íslenskt mál 26:11-48.
Haspelmath, Martin. 2002. Understanding Morphology. London: Arnold. Understanding Language Series.
Hock, Hans Henrich. 1991. Principles of Historical Linguistics. Berlin, New York: Mouton de Gruyter.
ísafold. 1894. 22. tölublað, bls. 84. -> http://www.timarit.is.
Íslensk orðabók. 2002. Ritstjóri: Mörður Arnason. Þriðja útgáfa, aukin og endurbætt. Reykjavík: Edda.
Íslensk orðtíðnibók. 1991. Jörgen Pind ritstjóri, Friðrik Magnússon, Stefán Briem. Reykjavík: Orðabók Háskólans.
Jón Árnason. 1994 (1738). Nucleus latinitatis. Quó pleræqve Romani sermonis Voces, ex classicis Auctoribus aureæ argenteæqve ætatis, ordine Etymologico adductæ, & Interpretatione vernacula expositæ com- prehenduntur. In usum Scholæ Schalholtinæ. Ný útgáfa. Guðrún Kvaran og Friðrik Magnússon sáu um útgáfuna. Reykjavík: Orðabók Háskólans.
Jón Magnússon. 1997. Grammatica islandica. Islenzk málfræði. Jón Axel Harðarson gaf út. Reykjavík: Málvísindastofnun Háskóla Islands.
Jón Þorkelsson. 1869. Um bæjanöfn á íslandi. Norðanfari, 8. ár, nr. 43-14, bls. 85-86; nr. 45-6, bls. 89-90.
Jón Þorkelsson. 1890-1894. Supplement til islandske Ordbøger. Tredje Samling. Første Del. Reykjavík.
Kurylowicz, Jerzy. 1945-1949. La nature des procés dits "analogiques". Acta Linguistica 5 :15-37.
Kurylowicz, Jerzy. 1964. The Inflectional Categories of Indo-European. Heidelberg: Carl Winter, Universitatsverlag.
van Langendonck, Willy. 2007. Theory and Typology of Proper Names. Berlin, New York: Mouton de Gruyter.
Laxdæla saga. 1934. Laxdæla saga. Halldórs þættir Snorrasonar. Stúfs þáttr. Einar Ól. Sveinsson gaf út. Reykjavík: Hið íslenzka fornritafélag.
Manczak, Witold. 1958. Tendances générales des changements analogiques. Lingua 7: 387-420.
Margrét Jónsdóttir. 1987. Um leyfilegar raðir í fornu máli og nýju. Íslenskt mál 9:71-93.
Margrét Jónsdóttir. 2009. Á Borgarfirði eystri - á Borgarfirði eystra. Hvaða orðflokki tilheyrir eystra? Orð og tunga 11:143-158.
Morgunblaðið 96. árg., 306. tbl. 8. nóv. 2008, bls. 46.
Nilsson, Jan. 1975. Plurala ortnamn på Island. Morfologiska iakttagelser. Umeå. Umeå Studies in the Humanities 8.
Noreen, Adolf. 1923. Altisländische und altnorwegische Grammatik (Laut- und Flexionslehre). Vierte vollständig umgearbeitate Auflage. Halle (Saale): Verlag von Max Niemeyer.
Ordbog over det norrene prosasprog. 2000. 2: ban-da. København: Den arnamagnæanske kommission.
Ordbog over det norrene prosasprog -> http://www.onp.hum.ku.dk.
Saeed, John I. 2003. Semantics. Second edition. Oxford: Blackwell.
Sigfús Blöndal. 1920-1924. íslensk-dönsk orðabók. Reykjavík.
Stofnun Árna Magnússonar í íslenskum fræðum -> http://www.arnastofnun.is.
Tiersma, Peter Meijes. 1982. Local and General Markedness. Languages 58:832-849.
Veturliði Oskarsson. 2003. Middehiedertyske láneord i islandsk diplomasprog frem til ár 1500.
København: C. A. Reitzels forlag, Bibliotheca Arnamagnæana XLIII.
Þingeyjarsýslur. Sýslu- og sóknalýsingar Hins íslenska bókmenntafélags 1839-1844. 1994. Ritnefnd: Björn Hróarsson, Heimir Pálsson og Sigurveig Erlingsdóttir. Reykjavík: Gott mál hf.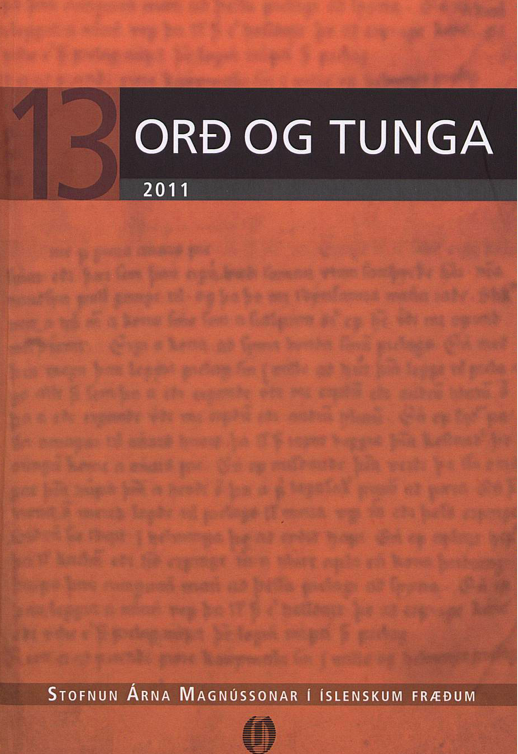 ##submission.copyrightStatement##
##submission.license.cc.by-nc-sa4.footer##